WELCOME TO MONTRÉAL PINBALL
A PINBALL REPAIR & RESOURCE WEBSITE
| | |
| --- | --- |
| | This site is dedicated to exploring the history of the game of pinball and how it has embedded itself into the fabric of Montreal over the past century. We believe that by preserving the functionality, appearance and factory specifications of various vintage amusement machines, we are consequently helping to provide a powerful perspective into the past of the coin operated games industry and our city. |
VINTAGE MONTREAL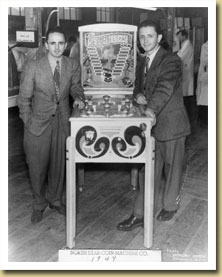 The outlook for the week-end was positive. It started taking shape on Thursday afternoon during a particularly productive day at my "square job" in what is left of the Canadian coin operated amusement machine industry. My father in law had dropped in with coffee, and by the same token confirmed a Saturday afternoon meeting with Jacques Tremblay. This made sense, since that night I had booked a service call with a particular collector, one whom I hadn't seen in over 15 years and who coincidentally had important information about the defunct North Star Coin Machine Company of Montreal. So, before meeting one of the founding brothers, 83 year-old Jacques, I wanted to get part of the "scoop" from Ron Gratton, a somewhat pivotal figure in the telling of this story and the preservation of these machines. The timing and the events were lining up nicely, like a good Krinsky playfield design waiting to be played out.
LATEST BLOG

Working, Playing and Letting Go
The Montreal Pinball repair blog chronicles
Service Date September 13, 2010
Posted: 17 October 2010 @ 6:26:46 PM

After work today I headed off to Mountain Sights road, off Jean-Talon and just east of Decaire. There, adjacent to the Montreal SPCA lay my next service call, near car washes, cell phone providers, body shops and clothing liquidation depots.